Students and Alumni associations
EPHSA was established in the summer of 2013. It is led by a board of 5 officers, consisting of both current students and alumni, as well as 4 current student representatives located at the different institutions of the EPH+ consortium, and 1 recent alumni representative. The Board strives to achieve the EPHSA mission:
"To facilitate, strengthen and protect personal and professional relationships among alumni, current and incoming students and partner institutions of the EPH+ programme."
EPHSA Board members 2021-2022
The EPH+/EPHSA Mentorship Program is an initiative built together by the Europubhealth Students, Alumni Association (EPHSA) and the EPH+ Consortium. The program aims to create mentor-mentee relationships that foster professional and personal growth that leads to excellence in public health. We started our pilot program in 2021, and after positive reviews, we can say it was a success! Additionally, we observed a high application rate for mentees, demonstrating their wish for guidance, therefore, we expect to gather more mentors this year as students are highly interested in this program.
Finally, EPHSA and the EPH+ Consortium are always looking for innovative ways to support students and alumni to foster their professional and personal development. By participating in the second phase of this program, we guarantee you will have a great experience while increasing your network and skills in public health.
Mentors are alumni with professional public health experience willing to share their knowledge and skills while guiding their mentee(s). Your role as a mentor is to be able to generate passion and commitment in the mentees, helping to inspire them to move in the right direction and assist them to develop new skills and techniques within their field of practice.
Mentees are current students from the Europubhealth+
program willing to engage in activities and meetings organized together with their mentor.
Mentors and mentees will be paired based on professional interests (i.e., research, consultancy, etc.) following their application.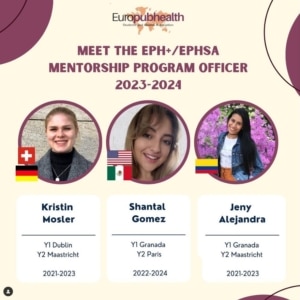 How to get involved and stay up to date!
Alumni and enrolled Europubhealth+ students are automatically members of EPHSA. All members are encouraged to:
Join the EPH+ public group for news, events and ask questions to other members: https://www.facebook.com/groups/110838556302/
Join the EPHSA Facebook group: https://www.facebook.com/groups/ephsa/

Please, provide your full name, as listed with the EPH+ programme, to be allowed access to the closed group.
Note: This is only for students who have accepted their programme offer and have enrolled in EPH+.

Join the LinkedIn closed group for member events, academic and professional updates, and for opportunities:https://www.linkedin.com/groups/8839296/

Note: This is only for students who have accepted their programme offer and have enrolled in EPH+.

Contact the EPHSA Board members with ideas, suggestions, feedback, and concerns about anything to do with the EPH+ programme and community.
Update the EPHSA community about your news and achievements through social media platforms.
Look out for upcoming Board elections, either to run for a Board position, or to support others through voting.
The EPHSA Board can also be contacted at: ephsanetwork@gmail.com
 And (for everyone) to stay updated about ongoing activities and news, follow EPHSA on Twitter! https://twitter.com/EPHSAnetwork
The objectives of EPHSA are to:
The objectives of EPHSA are to:
To create a network to share career experiences, knowledge, and opportunities such as projects, job openings and internships
To create a network to exchange advice regarding visas, accommodation and student life in different countries and universities
To collaborate with the EPH+ Consortium to promote the Master.
To represent EPH+ students and alumni within the EPH Consortium;.
To represent EPH+ students and alumni within the Erasmus Mundus Association (EMA).
Erasmus Mundus Association (EMA)
EMA was established in 2006 at the initiative of the Directorate General for Education and Culture of the European Commission. The Association was driven by the Erasmus Mundus students from the very start developing into a dynamic and democratic organisation. EMA serves as a channel of communication for students, alumni, universities and the European Commission. EMA members are ambassadors of the Erasmus Mundus and now Erasmus + programmes. They share the idea of international education and spread the message around the world.
EMA offers an international professional and personal network for Erasmus Mundus/Erasmus+ students and graduates. Its members can join its professional networks and service teams to network and become active within the Association. Europubhealth+ students and Alumni are welcome to join EMA anytime.
Europubhealth+ prospective students can also contact the Europubhealth+ programme representative elected every year.